Child body base for Adobe Fuse
A downloadable Child body base
Figures can be exported from Adobe Fuse as OBJ. There is no automated workflow for blend shapes and rigging.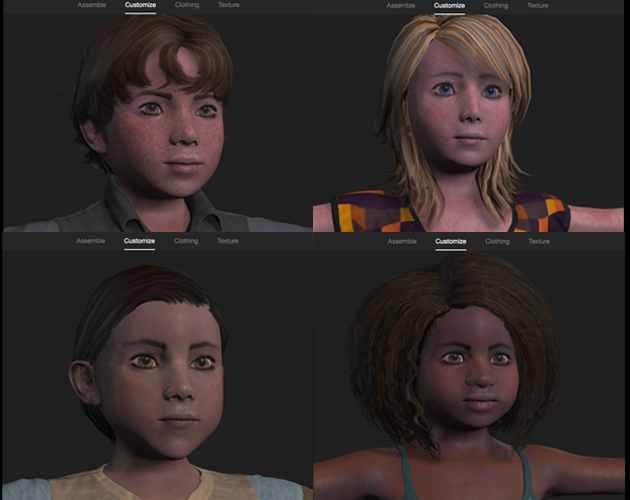 Child for Adobe or Mixamo Fuse
Create pre-adolescent girls* and boys – game-ready kid figures with Adobe Fuse!
Start a family…,
Populate a primary school...,
or solve a neighborhood mystery...
Child body base height is ~4ft tall (120cm). Generate ages 5–11 by adjusting body and head proportions in the Customize room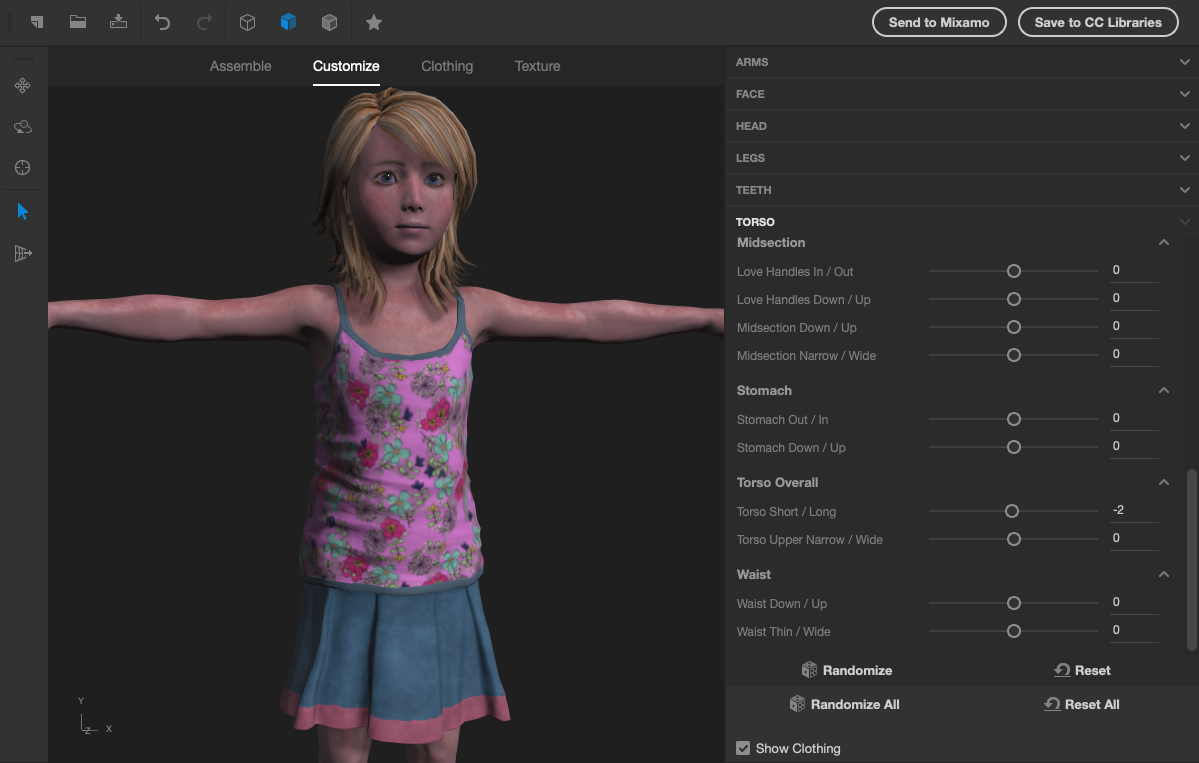 100% procedural skin – fully adjustable in the Texture room
4 skin/face presets (as shown) in the Assemble browser
Compatible with most Fuse clothing (conforming unisex tops work best)
easy installation: drag preset folders to Mixamo/Parts and relaunch Fuse
source files included: obj, normal, AO
*NEW* legacy Mixamo Fuse compatible presets (see below)
*UPDATE* improved mouth geometry – March 02 2021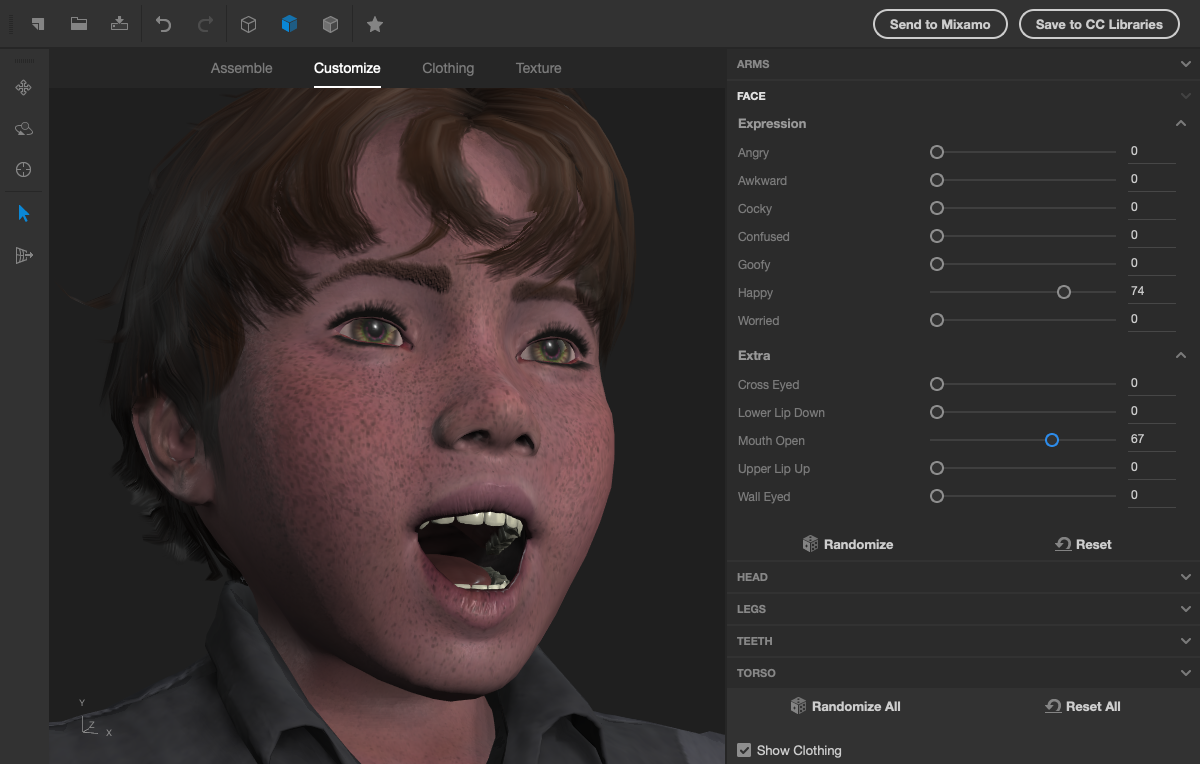 Need to reproduce an existing character? Adult heads will not fit the child body, but procedural Substance™ skin settings can be copy/pasted from another figure.

*Child body base uses a male modesty map as the Detail texture (set in Texture room), and in Modesty Mode (set in Fuse Preferences).
Aged Characters for Child body base
The Child body base is a versatile figure for character design!
As a bonus, download 4 Adobe Fuse scene files of mature and older characters. These scenes use the Child body base with included clothing and hair!

Mature Male
Old Woman
Mature Lady
Old Sensei
Since the body base is only 4ft tall, these aged characters will need to be scaled up:
Scale 1.25 ~ 5ft tall
Child for Mixamo Fuse 1.3 (Legacy)

Adobe Fuse is no longer available for download, but the legacy Mixamo Fuse is still available on Steam https://store.steampowered.com/app/257400/Fuse/

I provide a separate download of the Child presets for legacy Mixamo Fuse.
Expect minor differences with Fuse's substance-skin. Not all clothing/hair available as shown in previews.
The bonus scene files AgedCharacters will open with legacy Mixamo Fuse, but some 'Adobe' clothing content is missing.

Purchase
In order to download this Child body base you must purchase it at or above the minimum price of $9.95 USD. You will get access to the following files:
3Dwetcircuit_Child Adobe Fuse.zip – UPDATED March 02, 2021
18 MB
3Dwetcircuit_Child-AgedCharacters.zip
2 MB
3Dwetcircuit_Child legacy Mixamo Fuse.zip
15 MB
Comments
Log in with itch.io to leave a comment.
adobe fuse is dead. what now?
I have videos on my blog, but long-story short: I am using Akeytsu for rigging and I like it.
Other than blendshapes and the dead automated services, do you still work with Fuse?
I've not tried it yet, but I have a unity asset to create blendshapes for 3D meshes from scratch and while it may be a dead software, I still find my self using fuse for general character design. I will also be purchasing this child base for fuse as well, but was only curious. I've not really checked into Akeytsu yet. Just learned about it on this comment so I'll be looking into that too
Thanks
I do still use Adobe Fuse, I have Mixamo Fuse as back-up.

I'm not really a fan of Reallusion, but their Character Creator 3.4 has new features that are worth looking at, including iPhone expressions and an OBJ exporter. It's expensive, though.
I've got both the Fuse through steam and the one through creative cloud. Now that the adobe backend is no longer supported they are both as useful as the other I guess. Thanks for getting back. Waiting on word back from turbosquid and then most likely we will be ready to move forward with this pack.
The quality of this model is insane.
Love it